nView Health Chosen to Participate in Landmark Study of Anxiety in Children
Behavioral health software company supports anxiety research in partnership with Ann and Robert H. Lurie Children's Hospital of Chicago, University of Cincinnati, and UCLA Semel Institute.
---
March 11, 2021 Atlanta, GA —
nView Health, a provider of innovative software solutions that help identify, diagnose, and monitor patients with behavioral health conditions, announced today that its assessment solutions have been selected for use in one of the most comprehensive pediatric mental healthcare studies, the Partners in Caring for Anxious Youth (PCAY).

PCAY, a large multisite randomized control trial, funded by Patient Center Outcomes Research Institute (PCORI) aims to study the effectiveness of evidence-based treatments for child and adolescent anxiety. PCAY is a pragmatic clinical trial comparing Cognitive Behavioral Therapy (CBT) to CBT plus medication treatment (Combination) with the goal of achieving anxiety symptom remission and functional improvement at 6 and 12 months. Using the nView solution, participants will be identified in pediatric primary care, reflecting where treatment is commonly sought and administered by their pediatrician and community therapists.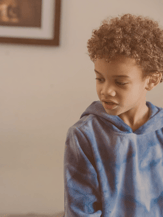 Anxiety disorders represent the most common mental health conditions. These illnesses have an early age of onset and are associated with functional impairment and distress. When untreated, they may result in persistent disability into adulthood. Early and accurate identification and treatment of anxiety disorders can improve lives. CBT and medication management have been shown to be effective for the treatment of anxiety disorders. However, there are gaps in how families make informed decisions.
What PCAY hopes to answer is (1) How do the two treatments, CBT and combined treatment, compare in rates of symptom remission? (2) Will fully optimized and personalized CBT close the effectiveness gap with combined treatment? (3) How will these treatments compare in a diverse community sample-receiving care in the community?
PCAY will assess participants throughout the treatment process, allowing for an in-depth understanding of treatment trajectories and identification of early predictors of remission. The implementation of PCAY within pediatric primary care settings will inform strategies for improving access to care.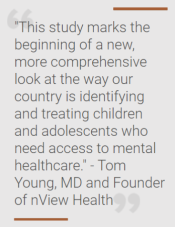 According to Dr. John Walkup of Lurie Children's Hospital of Chicago, "Our goal is to answer an important and common clinical question: 'What is the best initial treatment for the childhood anxiety disorders — combination treatment or CBT only?' Parents really want to know if there is a solid pathway to remission with CBT only or is medication really necessary for optimal outcomes."
According to Thomas Young, MD, Chief Medical Officer and Founder of nView Health, "This study marks the beginning of a new, more comprehensive look at the way our country is identifying and treating children and adolescents who need access to mental healthcare. Alarmingly, the rate of misdiagnosis for anxiety and other disorders in our country exceeds the rate of correct diagnosis. This must be addressed. We are honored to be working with these incredible hospitals and pediatricians to redefine the way mental health is identified and treated among our pediatric communities today."
Among its several products, nView Health provides digital, pediatric DSM-5 behavioral health screeners, diagnostic interview tools, and follow-up trackers. The nView Mini International Neuropsychiatric Interview (M.I.N.I.) KID solution, which enables physicians to more accurately identify 24 different pediatric disorders in one assessment, will be used throughout the PCAY study.
About nView Health
nView Health is the premier provider of evidence-based software and solutions used by research organizations and healthcare professionals around the world to help them identify, treat, and monitor mental health disorders, a critical requirement for measurement-based care. nView is the worldwide exclusive licensee for a broad array of behavioral health screening solutions, structured interviews, and post-diagnosis severity measurement scales to monitor patient outcomes. To learn more, please visit nview.com or follow nView Health on LinkedIn or Twitter.
---