Technology Association of Georgia (TAG) names nView Health to their "Top 40 Innovative Companies of Georgia" list.
MARCH 11, 2021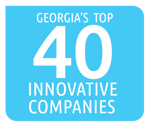 As a leading behavioral health solutions company, we are honored to be recognized by the Technology Association of Georgia (TAG) as one of the TOP INNOVATIVE COMPANIES OF ATLANTA for 2021.
TAG'S Top 40 Awards recognize Georgia-based technology companies for the following:
degree of innovation
scope and financial impact of innovation
likelihood of success
promotion of Georgia's innovative efforts nationally and internationally
Companies must be based in Georgia and show a significant focus on the "creation, development and dissemination"
The full list of TAG'S Top 40 companies: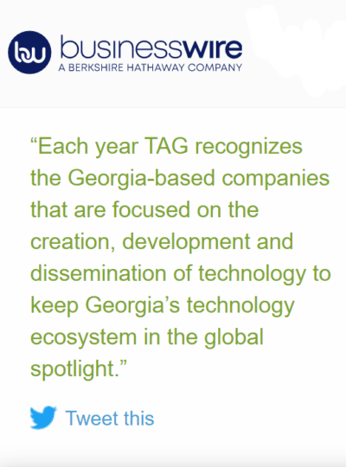 1Q
AMI
Apptega
Art Cloud
Bluefin
Buckle
CareTrack Health, Inc
CENTEGIX
Clearwave Corporation
Codoxo (formerly FraudScope)
Cox Media
DefenseStorm
Florence Healthcare
Gimme
Mile Auto, Inc.
Montra Solutions
MacStadium
Metric Mate
Managr
Ternio

NuGen Systems
nView Health
Optimal Technology Corporation
PadSplit
Paya, Inc
PrizePick
RoadSync
Radix Health
Roadie
SmartPM Technologies
Sonar
Stord Inc.
TechSera inc.
Hotel Effectiveness
Instant Financial
Judicial Innovations, LLC
Verusen
Vouch.io
Voxie
Ware2Go
nView Health, along with the other companies selected, will be showcased in a virtual exhibition at the 2021 Georgia Technology Summit.
About the Technology Association of Georgia (TAG)
TAG's mission is to Connect, Promote, Influence, and Educate Georgia's technology ecosystem to advance the innovation economy. Through those four foundational strategies TAG serves the technology community, helping to support, grow and ignite tech leaders, companies, and the overall Georgia economy. TAG serves more than 30,000 members statewide through regional chapters in Metro Atlanta, Augusta, Columbus, Macon/Middle Georgia, and Savannah. TAG hosts more than 150 events each year and serves as an umbrella organization for 26 professional societies. TAG provides networking and educational programs; celebrates Georgia's technology leaders and companies, and advocates for legislative action that enhances the state's economic climate for technology. Additionally, the TAG Education Collaborative (TAG-Ed) focuses on helping science, technology, engineering, and math (STEM) education initiatives thrive.