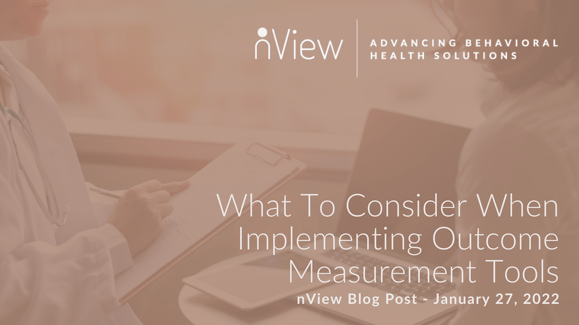 Our world is powered by data. Every Google suggestion and Amazon ad is carefully selected by harvesting data about our online behavior. Clearly, there's valuable insight to be found in data gathered consistently over time.
Clinicians recognize this and have increasingly implemented a data-driven approach to medical care that extends beyond merely recording symptoms. However, some argue that the field of behavioral health has not kept pace. The good news: Experts at the forefront of behavioral health are beginning to make strides by increasingly turning their attention to outcome measures.
Outcome measures are an important step toward measurement-based care. BMC Psychiatry, a peer-reviewed journal, defines an outcome measure in mental health as "a tool used to measure the effect on a person's mental health as a result of health care intervention, plus any additional extra-therapeutic influences. Specifically, outcome measures are quantitative indicators used at two or more points in time: baseline, post-intervention, discharge or follow-ups."
Let's explore the types of outcome measures, how they function, and why they are integral to delivering effective behavioral healthcare.
What Is Considered an Outcome Measure?
Unlike process measures, which generally focus on an action that a physician or patient performs at a given point in time, outcome measures capture data about what happens because of the treatment or process.
Outcome measures address areas such as a change in rate of depression, readmission and patient-reported experience. Monitoring progress consistently and over time provides behavioral health professionals quantitative data on which to better base decisions and make necessary adjustments to treatment.
How are Mental Health Outcomes Measured?
There are multiple options for outcome measurement tools, yet not all are created equal. Researchers from The Kennedy Forum, a nonprofit focused on healthcare improvement, recommends choosing outcome measurement tools that:
Are clinically useful, time-efficient, and enable monitoring of aggregate data on quality and population health.
Address the case-mix of the targeted populations based on severity and diagnosis.
Additionally, outcome measurement tools should be comprehensive. According to World Psychiatry, mental health outcome measures should not only focus on symptoms and functioning but also issues such as quality of life, recovery and community tenure. Some behavioral health providers may opt to take a portfolio-based approach that includes clinician-reported outcomes and patient-reported outcome measures (PROMs). PROMs are a subset of mental health outcome measures that capture information from the patient's perspective.
Why Are Outcome Measures Important?
Improving how to measure progress in mental health is the most obvious benefit of using outcome measures, but myriad gains extend to patients, providers and the behavioral health industry.
Katherine C. Nordal, former executive director for professional practice at the American Psychological Association, explains that "the use of outcome measures can guide treatment decisions, pinpoint the need for additional professional education and training, and help patients recognize their own improvement."
For example, by focusing on outcomes, providers can:
R

eveal areas in which interventions could improve care earlier in treatment;

I

dentify appropriate variations of care;

P

rovide evidence about interventions that work best for specific populations in certain circumstances; and

C

ompare the effectiveness of various treatments and procedures.
Progress in these areas directly links to improving a patient's quality of care, both for the individual and future populations who will benefit from insight into treatment methods provided by data. And improvements for patients translate into less per-capita healthcare spending and reduced clinician burnout –– benchmarks that behavioral healthcare organizations should aim to improve.
Outcome measures are also good for business. With the ability to objectively demonstrate the effectiveness of services, behavioral health providers can more readily secure access to funding and appropriate reimbursement for their services.
Key Considerations When Implementing Outcome Measures
Advocates for outcome measures call for more consistent and routine use of the measure so providers can assess whether treatment is working, adjust the treatment plan, and take other necessary action when patients are not improving as expected.
Implementing outcome measures alone does not improve patient health. Rather, clinicians must establish systems that guide usage. In "Fixing Behavioral Health Care in America," a brief by The Kennedy Forum, experts conclude that a leading cause of poor outcomes in routine care is that providers do not typically use symptom rating scales (also known as patient-report outcome measures) in a systematic way to determine quantitatively whether their patients are improving. Consequently, the report states, providers can "miss opportunities to improve their treatments over time and clinical practices miss opportunities to evaluate quality improvement activities."
The same approach for how to measure outcomes of a project is instructive in how to measure outcomes in research. The best examples of outcome measures in research rely on integrating process improvement consistently, making it easier for clinicians to collaborate on patient health decisions. After all, behavioral health is often referred to as a team sport, requiring a multi-dimensional team — including the patient — to collaborate for best results.
This move toward measurement-based care is inherently proactive and individualized, and by extension, empowers the patient to be a co-collaborator in their care.
Leveraging Outcome Measurements in Practice
Outcome measures will be effective only if they can be put into practice. Evidence-based electronic solutions make tracking and monitoring outcome measurements more viable — facilitating a systematic approach and actionable insights. The suite of behavioral health solutions from nView is used by some of the world's most advanced clinical research teams and behavioral healthcare organizations to help guide clinicians toward better using measurement-based care and resolving high rates of misdiagnosis.
From initial screening to measuring wellness, nView documents data and validates outcomes at every stage of the patient journey. Contact us to learn more about how nView solutions help providers and payers harness the power of data to help significantly improve behavioral health outcomes.