Dr. Thomas Young Discusses Behavioral Health on Workplace MVP Podcast
Dr. Thomas Young, founder and chief medical officer of nView Health, is a featured guest on the Workplace MVP podcast where he discusses behavioral health solutions for employers with host Jamie Gassmann.
The program explores how employers can make intelligent decisions concerning the approaches, resources, and tools they use to support employee behavioral health.
Joining Dr. Young on the program, titled "Choosing Resources to Support Employee Behavioral Health," is Robyn Hussa Farrell of Sharpen Health and Dr. George Vergolias of R3 Continuum.
You can listen to the program below or on your favorite podcast platform.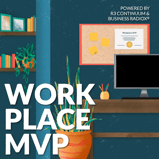 Workplace MVP is described as a podcast where "everyday workplace MVPs share their inspiring stories and best practice approaches to readying the workplace, responding to crisis situations, and overcoming challenges of disruption." It is underwritten and presented by R3 Continuum and produced by the Minneapolis-St. Paul Studio of Business RadioX®.