To keep you better informed about some of the biggest news and developments concerning behavioral and mental health, below are 10 of the most significant reports published in October. Highlights include stories on new federal requirements, healthcare workers, telehealth, climate change and the 988 Lifeline.



The Centers for Medicare & Medicaid Services (CMS) issued its 2024 Medicare physician fee schedule (PFS) final rule, which included significant developments for behavioral and mental health.
One of the biggest rule changes included in the PFS final rule was Medicare's decision to start permitting marriage and family therapists and mental health counselors to provide covered mental health services.
A study showed that mental health crises among children and adolescents requiring emergency department surged during the pandemic and have stayed elevated despite a return to normalcy.
A survey revealed that young adults in the United States experience anxiety and depression twice as frequently as teenagers.
The Centers for Disease Control and Prevention (CDC) launched the first-ever federal campaign — called "Impact Wellbeing" — encouraging hospitals to track and address burnout in their workforces.


---



Follow

Proem Behavioral Health on LinkedIn to help you stay current with the latest behavioral and mental health news.


---
The American Psychological Association and ecoAmerica issued a report discussing how climate change intersects with and compounds other factors that threaten youth mental health.
Research found that less than a third of people with severe psychological distress who used the 988 lifeline were very likely to use it again.
Research showed that a father's depression during his child's first year of life doubles the odds of a child having three or more adverse childhood experiences (ACEs) by age 5. 
A study showed that starting buprenorphine treatment for opioid use disorder through telehealth was associated with an increased likelihood of staying in treatment longer compared to starting treatment in a non-telehealth setting.
The U.S. Food and Drug Administration (FDA) issued draft guidance encouraging drug manufacturers to develop new treatments that could help treat addiction to meth, cocaine or prescription stimulants.


---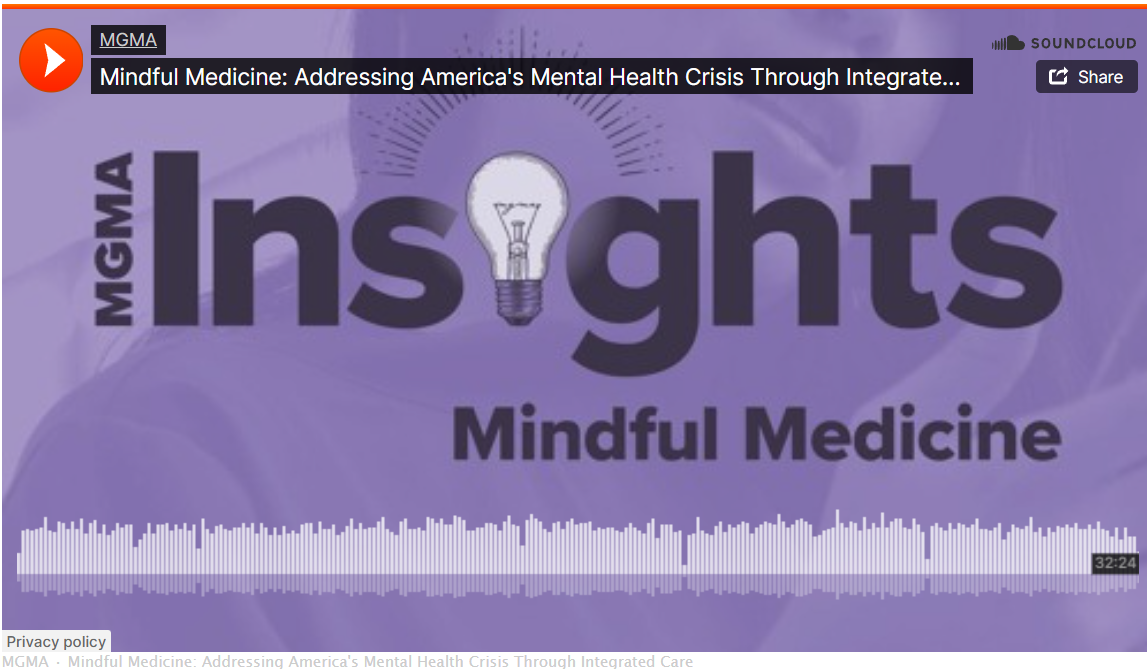 Dr. Thomas Young, chief medical officer at Proem Behavioral Health, appeared on the MGMA Mindful Medicine podcast to discuss a range of issues concerning mental and behavioral health, including behavioral health integration (BHI).