Proem Behavioral Health to Showcase Clinical Software at NatCon23
ATLANTA, April 27, 2023 – Proem Behavioral Health, developer of the evidence-based clinical workflow software engine that helps behavioral health providers and substance use disorder (SUD) clinics assess mental illness and SUD to help achieve verifiable outcomes, invites attendees of NatCon23 in Los Angeles on May 1-3 to visit Proem at Booth 1136.

While at the booth, attendees will get an up-close look at the Proem platform and its newly available analytics dashboards. The intelligent workflow engine from Proem easily integrates into the workflow of behavioral health and SUD practitioners to simultaneously assess the most common mental disorders and co-occurring SUD. With Proem, practitioners can efficiently and accurately identify, diagnose, treat and monitor mental illness. This leads to a significant result: better outcomes for those who suffer from mental illness and/or SUD.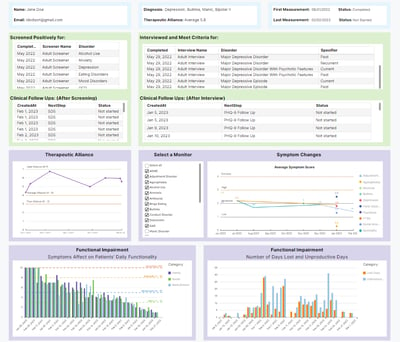 Within Proem, users can access new patient and management analytics dashboards that display timely and insightful information. The patient dashboard tracks conditions, care, symptom improvement, therapeutic alliance and functional impairment, all of which can be visible to the patient and practitioner depending on an organization's desired workflow. This information provides a holistic view of the patient's health indicators and improvements, including a detailed look at how a patient's symptoms are progressing for all diagnosed conditions; how a patient's mental health is affecting overall functionality at work/school, home and social life; and whether a patient feels aligned with their supporting practitioner.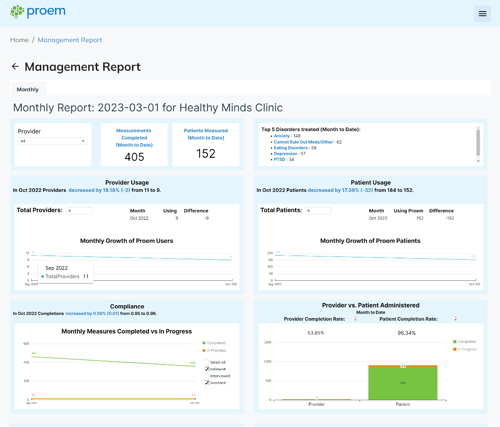 The management dashboard aggregates data across patient and provider populations and is presented in a format that enables administrators to facilitate best practices and consistency of care across multiple providers within an organization.
The new analytics dashboards join an impressive list of features and functions found in the Proem solution that also include the following:


Evidence-based measurements and scales designed to fit seamlessly within a behavioral health and SUD practitioner's existing workflow.
Multi-dimensional screeners and assessments that evaluate the most common DSM-5 and SUD conditions, reducing inherent bias, assessing for co-morbidities, and getting to the root causes of mental illness and SUD.
Outcome and severity measurement tools that help practitioners adjust treatments when they are not working and continue those that are working.
Data collected at every step of the process to provide the documentation needed to demonstrate verifiable patient outcomes to providers, patients and payers.
"NatCon23 is a welcome opportunity to show how Proem is helping behavioral health and SUD practitioners transform the ways they assess, treat and deliver outcomes for those with mental illness and SUD," said Proem CEO John Letter. "We designed the Proem solution and our new analytics dashboards to make it easier for practitioners to track, trend and measure patient outcomes and share vital progress reports with their patients. We believe 'healthier minds start with Proem,' and we look forward to showing the attendees of NatCon23 how our platform is helping improve lives worldwide."


---
ABOUT PROEM BEHAVIORAL HEALTH
Proem Behavioral Health provides the premier clinical workflow software engine that helps behavioral health providers, substance use disorder clinics, and research organizations efficiently and accurately screen, test, and measure treatment success for those suffering from mental illness. Proem is the exclusive digital licensee worldwide of gold-standard, evidence-based screening solutions, structured interviews and post-diagnosis severity measurement scales to monitor patient outcomes. To learn more, visit
proemhealth.com
and follow Proem on
LinkedIn
and
Twitter
.
---