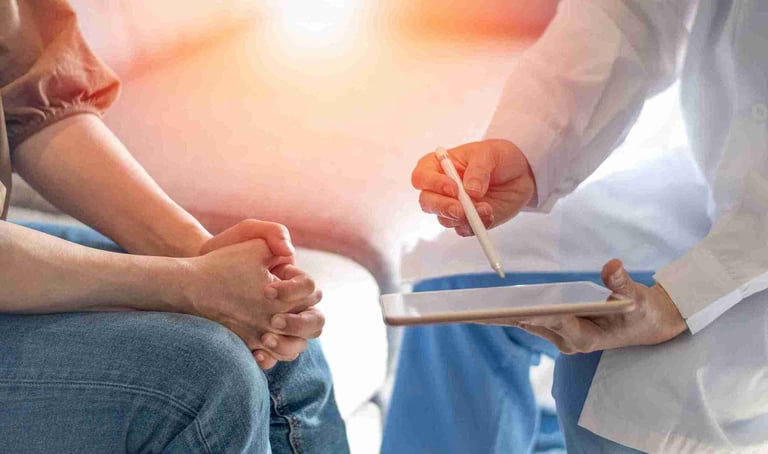 Behavioral health assessments are one way for clinicians to obtain a more complete picture of a person's behavioral health and functioning. These assessments, different from mental health screenings, usually consist of a combination of tools that, when considered together, can provide a better understanding of patients, their symptoms, and their life situations. Mental health assessment examples include psychological tests and screeners, clinical interviews, mental health observations, personal and social histories, and clinical record reviews.
Here are some of the reasons why assessment tools are essential for behavioral health.
Understanding the Value of Behavioral Health Assessment Tools
1) Better screening and early intervention can lead to better outcomes.
Mental health assessment tools for adults and children can help clinicians arrive at the right diagnosis and an appropriate treatment plan. Earlier identification and treatment of mental health issues are more likely to result in improved outcomes.
As a report from the American Behavioral Health Counselors Association notes, "Emerging research indicates that intervening early can interrupt the negative course of some behavioral illnesses and may, in some cases, lessen long-term disability. New understanding of brain science indicates that early identification and intervention can sharply improve outcomes and that longer periods of abnormal thoughts and behavior have cumulative effects and can limit capacity for recovery."
2) Standardized mental health assessment tools can help primary care providers spot signs of mental illness.
Primary care providers are frequently on the front lines of initially diagnosing and managing mental health conditions. According to the Centers for Disease Control and Prevention (CDC), one-fifth of all primary care visits address mental health concerns, often resulting in a screening or referral to a behavioral health professional.
Standardized mental health assessment questionnaires can help primary care providers identify behavioral health conditions in their patients. This is especially important for patients from at-risk populations, who may be more likely to see and share their concerns with a primary care provider than a behavioral health professional.
3) Taking care of behavioral health begins in childhood.
There are specially designed tools, such as mental health assessment tools for depression, for addressing the unique needs and abilities of children of all ages. Mental health assessment tools for students and children are particularly critical because approximately half of lifetime mental health conditions begin by age 14 and three-quarters begin by age 24. At the same time, the average delay between when symptoms first appear and intervention is approximately 11 years.
Behavioral health assessments allow for early identification and intervention to help bridge this gap. Mental Health America's position statement on early identification of behavioral health issues in young people reads as follows: "Behavioral health problems affect one in five young people at any given time, and about two-thirds of all young people with behavioral health problems are not getting the help they need. Research shows that early intervention can prevent significant behavioral health problems from developing. Epidemiological research confirms the relationship between behavioral health issues and suicide or self-mutilation, substance abuse, suspension, dropping out, expulsion, and involvement with the juvenile justice system. The research also shows that effective treatment can reduce the risk of such consequences."
4) Standardized mental health assessment tools are important for measurement in research.
For researchers studying mental illnesses and evaluating new treatments for these conditions, standardized mental health assessment tools are a necessity. Standardized tools allow researchers to identify appropriate participants for their studies and measure their progress in response to specific interventions and therapies.
5) Standardized behavioral health assessment tools can point to effective treatment plans and track patient progress.
After diagnosis, assessment tools can measure data on patient progress during treatment. Such data can be used by healthcare providers to measure and document patient progress over time and help evaluate the effectiveness of specific mental health interventions.
More specifically, evidence-based behavioral health assessment tools are particularly important for getting patients the support they need. As Josh Spitalnick, Ph.D., ABPP, stated on a Behavioral Healthcare Today podcast, "When providers don't use evidence-based assessment tools, they are more likely to diagnose a generic disorder or a poorly defined disorder like generalized anxiety disorder, or depression, or an adjustment disorder that does not have clearly defined treatment plans. These 'bucket-list' or 'empty category' diagnoses rarely get reimbursed by insurance and have little to no research behind clear interventions. Therefore, the patient is not getting the most evidence-based and best possible therapeutic treatment experience."
6) Digital behavioral health assessment tools are streamlining behavioral healthcare.
Many assessment tools and mental health assessment questionnaires are available in digital format, which has several advantages. Digital tools reduce paperwork and can be easily accessible via mobile or other web-enabled devices. They are also quick and easy for any health professional to administer and can be deployed rapidly to individuals or large populations.


Qualities to Look for in Behavioral Health Assessment Tools
Now that you have a greater appreciation for the various mental health assessment examples and the value of behavioral health assessment tools, here are some of the key qualities to look for in the tools you are considering:
Clinically validated

– Look for mental health assessment tools that have been cited in publications, clinical trials, and studies around the world.

Accurate

– Look for tools, like mental health assessments for depression, that can accurately diagnose and uncover the root cause of a disorder and can deliver more value than those that just report on the severity of symptoms.

Speedy

– Faster completion times improve the patient experience and help healthcare providers arrive at an accurate diagnosis quicker.

Digital

– The demand for virtual behavioral healthcare is high and growing. Digital mental health assessment tools support a virtual patient care experience.

Reimbursable

– For primary care providers as well as behavioral healthcare specialists, making sure you can bill for behavioral healthcare is an important consideration.

Comprehensive

– Rather than relying on multiple screening tools for a diagnosis, it can be helpful to use

a

single tool

to evaluate many possible disorders.

DSM-5 compliant

– Behavioral health assessment tools should meet the standards of the Diagnostic and Statistical Manual of Behavioral Disorders, 5th Edition (DSM-5). The American Psychiatric Association's authoritative guidance on behavioral disorders.

Independent

– Be aware of who created the screening and assessment tools you are using and if there could be any bias.
---
If you're looking for behavioral health assessment tools and other mental health solutions that can support your efforts to more accurately and consistently identify, diagnose and monitor mental illness, contact us. Proem helps drive better outcomes for patients through our intelligent workflow engine that captures and shares data at every step of the behavioral healthcare process. We provide data-driven insights to help providers assess and diagnose mental illness with accuracy.