Proem to Showcase Behavioral Health Assessment Tools at DIA 2023
ATLANTA, June 26, 2023 – Proem Behavioral Health, which offers one of the most used and validated sets of behavioral health assessment tools available, invites attendees of the DIA 2023 Global Annual Meeting in Boston from June 25–29 to visit Proem at Booth 1144.

The Proem solution helps clinical researchers more accurately and consistently screen for and diagnose the most common DSM-5 mental health disorders to assist with trial participant selection and ongoing monitoring. Using Proem, researchers are empowered to select the right trial participants to keep studies on track and get neuropsychiatric drugs, therapies and devices to market more quickly, safely and cost-effectively.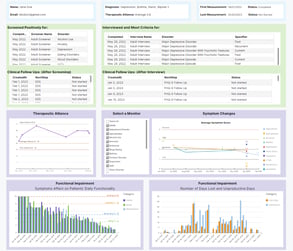 Proem is the exclusive worldwide digital licensee of clinically validated scales written by world-renowned psychiatrists and used by researchers for more than 25 years in more than 100 countries. Proem licensed digital scales include the Mini International Neuropsychiatric Interview (M.I.N.I.), M.I.N.I. KID, Sheehan Disability Scale (SDS), Sheehan-Suicidality Tracking Scale (S-STS), Yale-Brown Obsessive Compulsive Scale (YBOCS I&II), Childrens Yale-Brown Obsessive Compulsive Scale (CYBOCS I&II), Body Dysmorphic Disorder Questionnaire (BDDQ), and more.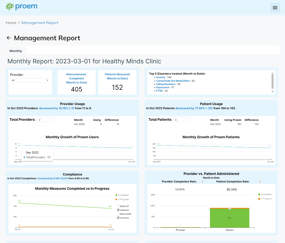 Proem's exclusively licensed scales have been cited in more than 175,000 articles and used in worldwide studies reviewed by the U.S. Food and Drug Administration (FDA), National Institutes of Health (NIH), National Institutes of Mental Health (NIMH), World Health Organization (WHO), European Pharmaceutical Associations, and Federation of Asian Pharmaceutical Associations.


Key benefits of the Proem solution include the following
Speed of screening — Significantly decrease the time it takes to administer mental health assessments for potential trial participants.
Accurate data — Accurate screening and assessment results better ensure the right candidates are included in studies and trials.
Remove bias — Using digital tools eliminates manual patient screening processes that can introduce screener bias.
Decrease scoring errors — Digital solutions also drastically cut scoring errors associated with manual tools.
Native language — Reliable translation services preserve the integrity of the tools in any language.

"At Proem, we are committed to partnering with clinical researchers to help them effectively identify and recruit the trial participants they need and accomplish their study objectives," said Proem CEO John Letter. "We look forward to showing attendees of DIA 2023 why clinical researchers are increasingly using our digital assessments and why we believe 'healthy minds start with Proem.


---
ABOUT PROEM BEHAVIORAL HEALTH
Proem Behavioral Health provides the premier clinical workflow software engine that helps behavioral health providers, substance use disorder clinics and research organizations efficiently and accurately screen, test and measure treatment success for those suffering from mental illness. Proem is the exclusive digital licensee worldwide of gold-standard, evidence-based screening solutions, structured interviews and post-diagnosis severity measurement scales to monitor patient outcomes. To learn more, visit proemhealth.com and follow Proem on LinkedIn and Twitter.

---