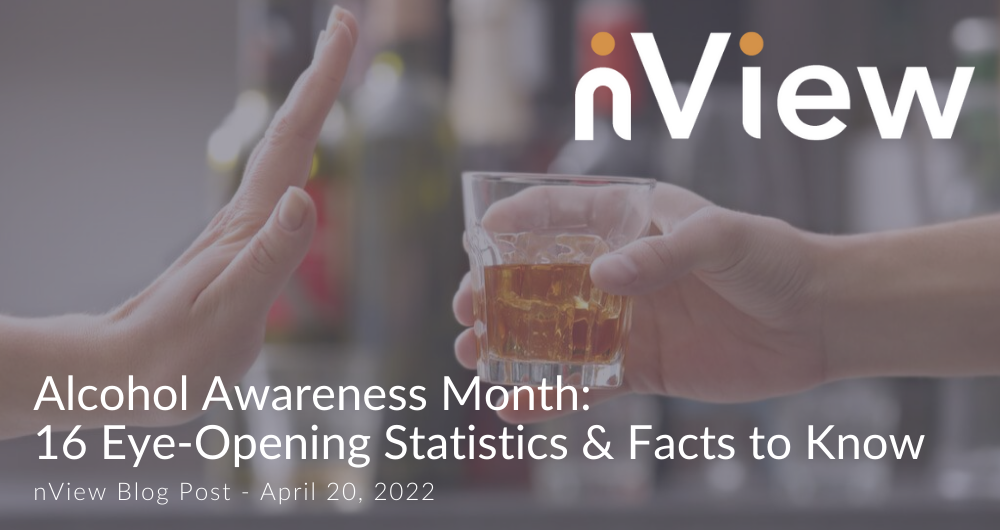 Alcohol Awareness Month: 16 Eye-Opening Statistics & Facts to Know
April is Alcohol Awareness Month.
It was established in 1987 and was formerly sponsored by the National Council for Alcoholism and Drug Dependence (NCADD). According to Recovered, the goals of the annual campaign include the following: raise awareness for communities, help understand the causes and treatment available for alcoholism, reduce the social stigma associated with alcoholism, and educate people on how the disease can be addressed.
Alcoholism is a growing problem and one that affects millions of Americans. At nView, we're acutely aware of the challenges associated with alcoholism as our solutions help substance use disorder (SUD) clinics identify and treat the underlying mental health conditions that lead to alcohol and other substance use disorders.
To gain a better understanding of alcohol use disorder (AUD) and its prevalence in the United States, here are 16 statistics and facts to know.
Nearly 15 million Americans ages 12 and older have AUD. Only about 7% received any treatment in the previous year.


More than 400,000 adolescents ages 12 to 17 have AUD. Only about 6% received any treatment in the previous year.


Less than 4% of those with AUD were prescribed a medication approved by the U.S. Food and Drug Administration (FDA) to treat their disorder.


A wide range of psychiatric conditions — including depression, post-traumatic stress disorder (PTSD) and attention deficit hyperactivity disorder (ADHD) — are comorbid with AUD and associated with an increased risk of AUD.


Excessive drinking increased by more than 20% during the COVID-19 pandemic.


More than 25% of adults aged 18 and over had at least one heavy drinking day (five or more drinks for men and four or more drinks for women) in the past year.


An estimated 95,000 people die from alcohol-related causes annually (about 260 daily deaths).


Excessive drinking is associated with 1 in 10 deaths among working-age adults.


Teen alcohol use kills more than 4,000 people annually. That's more than all illegal drugs combined.


Nearly 30,000 people die annually from alcoholic liver disease.


Alcohol use is the third-leading cause of preventable death in the United States.


The rate of alcohol-related emergency department (ED) visits increased 47% between 2006 and 2014. This translates to an average annual increase of 210,000 alcohol-related ED visits.


Alcohol contributes to about 19% of ED visits and more than 22% of overdose deaths related to prescription opioids.


Alcohol is a factor in about 30% of suicides and about 50% of fatal drowningsand homicides.


Excessive alcohol use is associated with an increased risk of injuries, chronic diseases, several cancers, and poor pregnancy outcomes.


Alcohol use disorder is linked to 232 million annual missed workdays.


The Correlation Between Alcohol Use and Mental Health
These and other statistics and facts concerning alcohol use disorder and excessive drinking indicate just how serious an issue alcoholism is for adults and adolescents. While it is imperative that those struggling with AUD receive treatment for their addiction, success will largely hinge upon also providing these individuals with the mental health help and support they need.
As Jim Szyperski of nView Health, stated, "Because substance use treatment programs have been so focused on treating the addiction, they may have missed some of the critical underlying mental health issues that are almost always present among those who suffer from substance use disorders. As one substance use physician once told me, 'Everyone who walks through our door has an underlying mental health disorder.' Part of nView's mission is to help these dedicated specialists receive a more holistic view of the patient so they can better understand and subsequently treat the root causes of addiction."
To learn more about how nView collaborates with SUD clinics to improve diagnosing and counseling, contact us.
---

Data sources: